A Little Machine Embroidered Keepsake for Graduates
Our middle daughter recently graduated from high school <gulp>.  I wanted to create a keepsake for her and her classmates (29 total graudates), something special that no one had done for them before.  My initial thought was to make each of them a bookmark.  I was concerned that they would never use them for such.  Plan B was to machine embroider a small decal and just add a string and button to it and let the graduates decide what they wanted to use them for.  I also sewed a piece of Peltex™ to the back of each gift, to give it a little stability.
I was going to put together a little note with each one, saying that it was a keepsake made just for them (except I ran out of time to do this) – it could be a bookmark, a memento for their senior books, a small coaster or maybe just something to just hang on a bulletin board.  When our daughter saw hers, she said to me, "It's a Christmas ornament, right?"  HA!  I hadn't even thought of that!  Here's a couple of them in all their glory: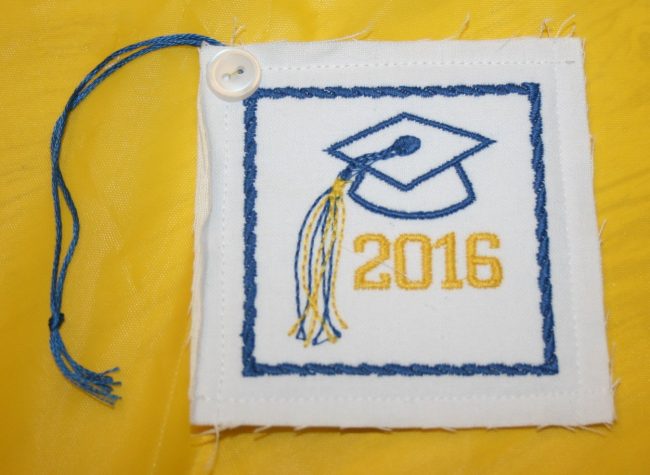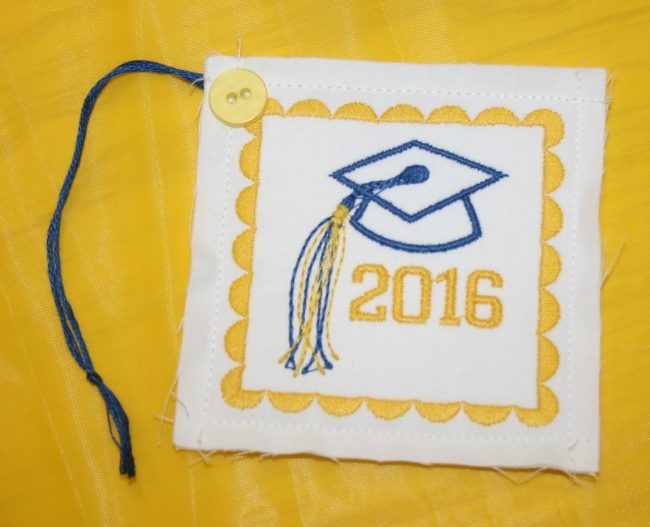 The center embroidery pattern was purchased.  I added the square borders in varying colors and patterns to them.  I also want to give a shout-out to Diana Casparian and her Etsy offerings at 2artzee.  I thought I knew what I wanted when I purchased the first embroidery design from her shop but as I practiced and practiced, she had to go back to her design software three or four times until I was finally satisfied with what she digitized – and she *never* charged me more than the original price of the file for all of the revisions.  So this little keepsake is inspired by her love of machine embroidery, as shown through her amazing customer service!