Aurifil Michelle Scott Thread Collection Winner
Without further ado, let me congratulate Nickie for winning the special collection chosen by Michelle Scott for her Prism collection.  The collection case includes 12 colors of 12 wt cotton thread containing 386 yds each. Colors : 3840-4653-4655-4652-4657-4658-4668-4667-4662-4663-4647-4648. 

Here is an image of the random number generator from Random.org: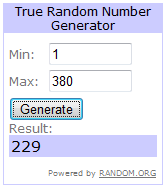 Nickie, watch for an email from Aurifil so they can get your shipping address to send you your luscious thread prize! 
And thanks SO much to everyone who entered and commented, followed BOMquilts.com and who loves Aurifil thread!  I look forward to having more giveaways soon!