Quilt Therapy Block a Day Table Runner Block 5
Block 5:  NOTE:  My cutting information will be based on the colors of the blocks shown.  Use your own cutting guides for the scrappy colors you choose.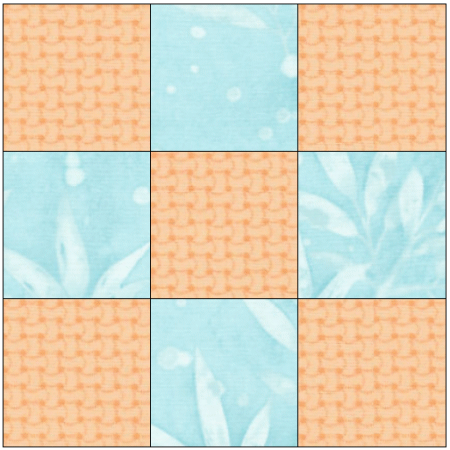 Cut FIVE (5) 2 7/8″ squares of Peach
Cut FOUR (4) 2 7/8″ squares of Blue
Sew each row of the block together then sew the rows to each other to create a nine patch block.
Finishing Instructions
Cut FOUR (4) 1 1/2″ x 7 1/2″ strips for sashing

Cut enough 2″ x WOF fabric to sew together to create enough to bind your table runner
Always square up your blocks before you put them into a project.  Remember, the unfinished block size is 7 1/2″. 
Sew each block to a sashing strip, starting in the center and working out toward the ends.  Then, create a quilt sandwich with 100% cotton batting or Insul-Bright (both battings absorb the heat if you set hot dishes on your table runner) and backing – then quilt your table runner.  Finally trim the edges of your table runner and add the binding!
Congratulations!  You have just completed your Quilt Therapy Block a Day Table Runner!