Quilt Therapy Block a Day Table Runner Block 3
Block 3:  NOTE:  My cutting information will be based on the colors of the blocks shown.  Use your own cutting guides for the scrappy colors you choose.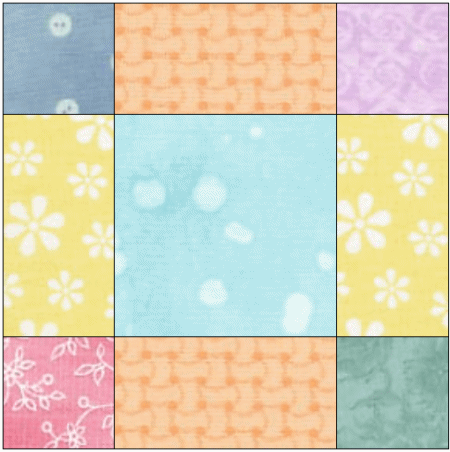 Cut ONE (1) 2 1/4″ square from Pink, Blue, Purple and another Blue
Cut TWO (2) 2 1/4″ x 4″ strips from Peach and Yellow
Cut ONE (1) 4″ square from Light Blue
Sew TWO (2) rows together with the other Blue, Peach and Purple fabrics.  Sew ONE (1) row together with the Yellow and Light Blue.  Then sew the two rows that go on the top and bottom of the center row to the center row.
Block 4 Tomorrow!