Quilt Therapy Block a Day Table Runner Block 1
I love putting table runners on our dining room table.  Not only does it add a spash of color to an otherwise blah room, it helps to cushion hot dishes and have a place for the napkins and salt and pepper shakers.  Because I have a hard time carving out time in my day for making a whole table runner, I like to make a block a day – just a touch of quilt therapy each day sure keeps the blues away!
This is a scrappy table runner, so use up your scraps and make it fun!  In our house, that means letting the kids pick out the colors for one block each and then I get to pick out the colors to pull all of the other blocks together. 
The blocks are chosen for beginners and none of them have anything more than squares or strips, so anyone should be able to make this simple Quilt Therapy Block a Day Table Runner!
Finished Table Runner = 36″ x 8″
Finished Block Size = 7″
Unfinished Block Size = 7 1/2″
All Seams 1/4″
Besides scraps for your blocks, you will need 1/4 yard of fabric for the sashing and binding.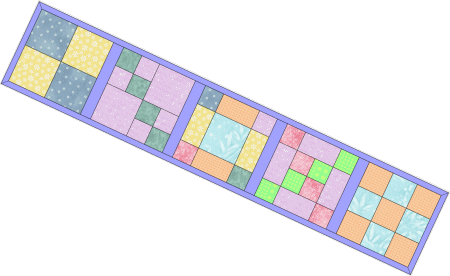 Block 1:  NOTE:  My cutting information will be based on the colors of the blocks shown.  Use your own cutting guides for the scrappy colors you choose.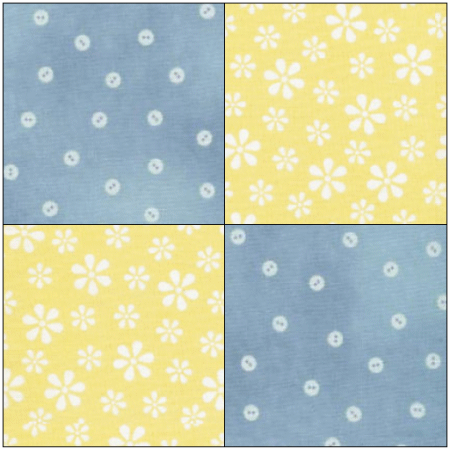 Cut TWO (2) 4″ squares of Yellow
Cut TWO (2) 4″ squares of Blue
Sew the squares together by row and then sew the rows together to create your four patch block.
Block 2 Tomorrow!