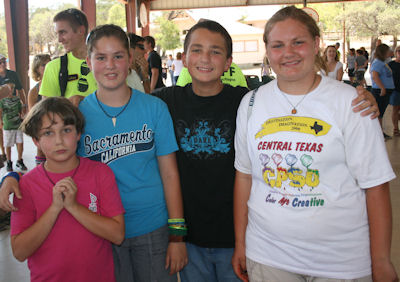 It hasn't been a secret that we are a family in need.  My husband has been without a job since July 2006, and I bet he would be a top contender in "Dear John" letters if there were a contest for such.  I have been the main breadwinner, but since my MS diagnosis in December, my income has fallen drastically.  We can feed our kids, but anything above that is always a gift from God and family or friends.
When it was time to start thinking about summer activities for our kids, we knew we needed help.  We reached out to my third foster mother (who paid for three of our kids to go to church camp last year) and she paid for us to register our three daughters. 
Then, our Pastor at church said that an anonymous donor wanted to send ALL of our kids to church camp, and he didn't bat an eye at the price; because although we got camperships for the girls, it was too late to ask for one for our son.  When I told our Pastor the final cost, he obtained a check from the generous donor and we signed all four kids up for camp.
Each of the three younger kids participated for a week in their various age-appropriate camps.  The son-man was ecstatic that we finally allowed him to go to camp (usually, he goes to Boy Scout camp while the girls choose church camp) – and he had a great week!  Our oldest daughter is in the counselor-in-training course, and she had to attend camp for two weeks, at two different camps.  The kids are still "bringing down the roof" with camp praise songs!
We picked the eldest up last week, and now all four kids have had another experience of a lifetime to grow in their faith and keep as precious memories of their youth.
And we, their parents, have yet another lovely heart to pray for and give thanks to God for living and loving our children.