How NOT to Digitize a Machine Embroidered File
A relative of ours recently graduated from Texas State University in San Marcos, Texas, USA. Both of his parents also graduated from the same institution of higher education. It runs in the family! Woo Hoo!!!
I wanted to make him a mug rug of his very own, since I'd already made one for both of his parents. So I searched and searched until I found an online shop who offered them. The image of the digitized file looked absolutely perfect for my needs: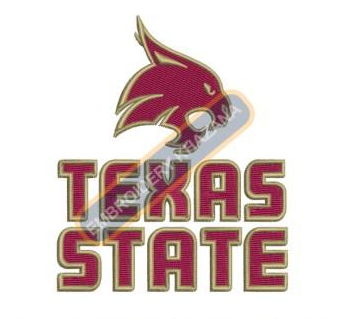 So I purchased the PES file but didn't have time to make it the day or even the week after I'd made my purchase. He was graduating on December 15th and when I looked at my calendar, I realized I needed to get my embroidery machine busy, because his graduation date snuck up on me! The weekend before his graduation party, I sat down at my machine with my two threads at-the-ready, my fabric tightly held in my embroidery hoop. I was anxious and ready to see this perfect Texas State embroidery file stitched.
The "bobcat" portion turned out great! There were a few minor things that could've been improved upon but nothing to worry about. Next up, the "Texas State" portion of the embroidery file. Not only was I anxious ready, but now I was uber excited because I had absolutely no thread breakage or unraveling of my threads throughout the entire "bobcat" portion of the file.
I don't need to tell you anything about the words on the file, I'll just show you a photo of how it stitched out: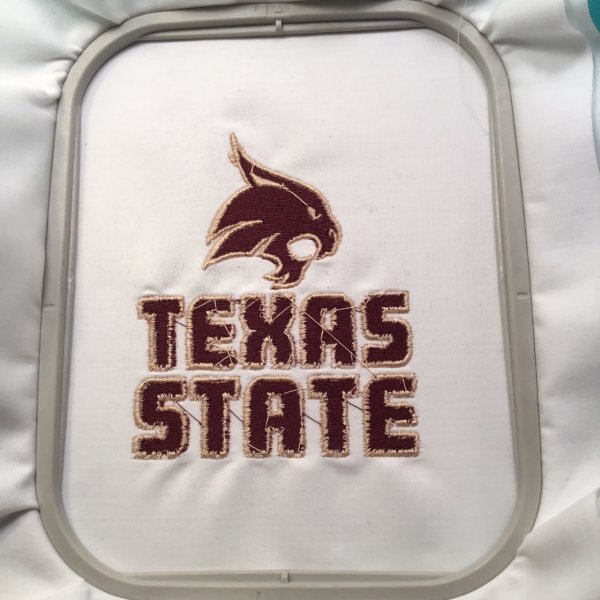 Really?
Yes, really. That nightmare of a stitched out "Texas State" embroidery file is what I ended up with, well that's not quite right, it's what the TRASH ended up with!!! 🙁
If you know anything about instant downloads, you know that nearly everyone who sells them doesn't offer refunds. Be that as it may, I emailed whoever their contact info said to email, asking for a full refund. Not only did they NOT give me a refund, they didn't even respond to my email!
Let me make one thing very clear to you. DO NOT EVER, EVER, EVER purchase an embroidery file from this website: