Crazy Quilted Heart Instructions
My very dear Gramma from Tramma passed away when I was about 20 years old (ahem, a few years ago).  I treasured that woman, from as far back as I can remember.  If it weren't for her love, I can honestly say I would not be where I am today.  She was nothing special to most others, but she was the very epitome of unconditional love, to me.
After her passing, I received a sympathy card from her best friend, Polly.  Mind you, I hadn't seen Polly in years, but she and Grandma were best buds for a very long time.  When I was old enough to drive, I'd drop Grandma off at her favorite bar … and I'd always have to go inside, to visit with Polly before I left.  Oh my, was it a sight to see two old ladies, knocking off beers in a bar!  And after Grandma's death, it was ever-so special for Polly to send me a note, as she truly knew how close Grandma and I were.  Inside the card that Polly sent to me was a crocheted red heart.  It's still a treasured item of mine.  The sentiment was straight-forward … Polly told me if I ever needed to remember Grandma, all I needed to do was to hold the heart in my hand – because it was a part of Polly … and Polly was a part of Grandma's life … and I was a part of all of it.
When we received word a couple of weeks ago that a dear friend was diagnosed with cancer, we were in shock.  This is a young woman, about my age, who is as humble and precious as they come.  She's never been in a category that you'd ever think would get cancer, she's just too wonderful for that.  She doesn't drink, doesn't smoke, never chewed tobacco … yet, the doctors found cancer under her tongue.  My goodness, the woman doesn't even cuss – and that in itself is amazing, to me (of course, my excuse is that I was raised with it, so it's just another word to me)!
When we heard about our friend, I had to do something.  We aren't close in miles, but we are all close in hearts.  So, I whipped up the Crazy Quilted Heart that I showed you previously.
And now, I ask you to print out the instructions and make your own.  We received an email from our friends, and found out that she held onto the heart that I made, as she was wheeled into surgery.  It brought her the same comfort that Polly's heart brought to me — and I bet, if you know someone who needs a little uplift, it'd help them, too.
1)  With scraps of fabric, just start sewing them together, with straight seams.  I used six fabric colors because there are six in our family.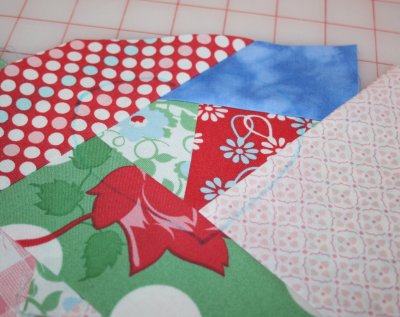 2)  With a piece of Peltex, cardboard or something else that's stiff enough to be traced around a number of times, draw a heart and cut it out.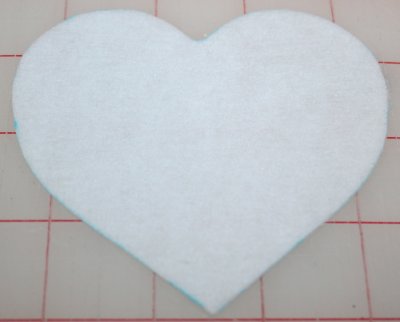 3)  Next, trace the heart onto your fabrics with a pencil or disappearing ink pen and trim your stitched fabric piece so you're about 1″ from the traced heart.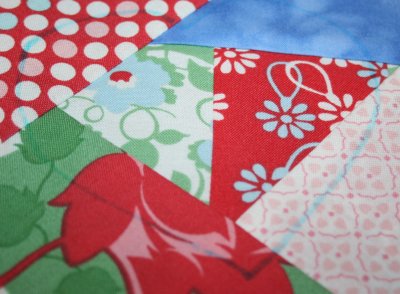 4)  Next, create your quilt sandwich with a small piece of thin, cotton batting and the background fabrics.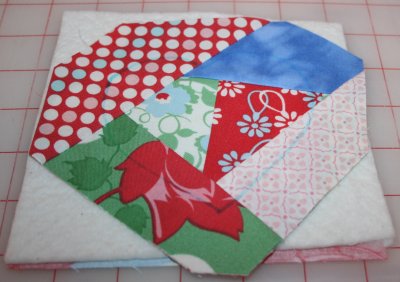 5)  Then, using some embroidery stitches with your sewing machine (or by hand), stitch on top of each seam that you have on the heart front, making sure that you stop at the edge of the heart template lines.
6)  Finally, using a tight zig-zag stitch, stitch all around your heart, ON the template line that you drew.  Then, cut away the excess around the outer edge.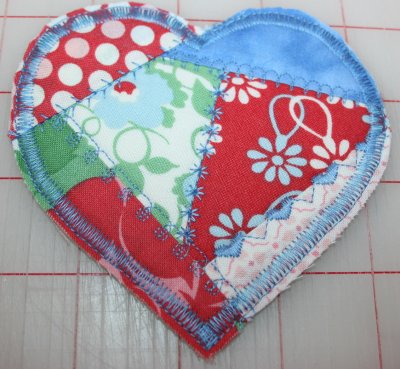 If you're interested, this is what I wrote (edited to protect the privacy of those involved) on the card that we sent the heart with:
We offer you our quilted heart, to have and to hold.  It is made with six fabrics, representing the six members of our family.  The pattern is known as a "crazy quilt" pattern – I think that's pretty fitting.  It also has an unfinished edge, which will unravel as time goes on…much as we find our own hearts doing, like with the news we received about you.

After the quilted heart was finished, my husband said a blessing for you over it.  Then each of us took it into our hands, touching the fabrics, and sending up individual, silent prayers for you.

Remove the heart from this card.  Hold it and touch it … and feel the love that we send to you through it.  You are loved.  Please know that you have our constant prayers, and that we're here if ya'll need *anything* at all.