Crooked Brook Embroidery Blocks Giveaway!
Once again, Crooked Brook® has stepped up to the plate and is giving away another great quilter's or sewing gift!
FREE EMBROIDERED BLOCKS!
If you saw my earlier post, I put photos of all of the blocks that they sent to me. 
Boy, was it tough to decide which set I was going to work with first! 🙂
After the kids and I ran through all of the stories of Little Red Riding Hood and Goldilocks and the Three Bears, we agreed that I'd make a quilted story book wall hanging out of the Little Red Riding Hood blocks.  That way, it could hang on a child's wall and they could either read the story with their parents, or just lay in their bed and make up their own story to go with the pictures.  We're big on imagination in our house!
First, I trimmed all of the blocks to 11″ unfinished.  Then, I added 2 1/2″ unfinished red sashing to the blocks and made my quilt sandwich:

Then, I took my own sweet time quilting the wall hanging – and let me tell you, I could NOT get the story of Little Red Riding Hood out of my mind the entire day!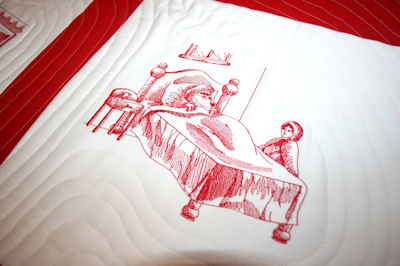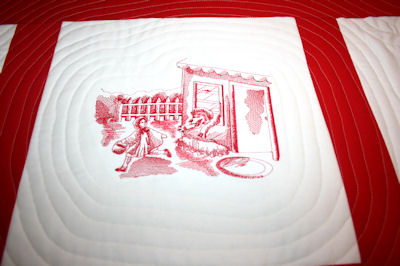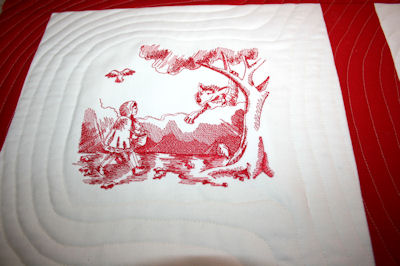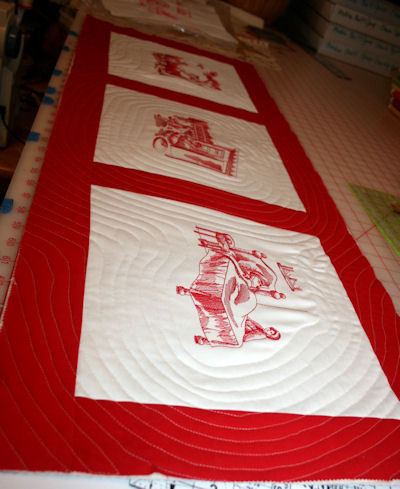 And here's my finished quilted story book wall hanging!

Free Fabric Giveaway !!!
Rules:
You must leave a comment on this blog post about what you would do with your own set of three embroidered blocks, including your email address.

Entries will be received from June 10th through June 16th.

Winner will be chosen on Friday, June 17th and notified via email.

Winner will be randomly selected.

Entries only received from U.S. Residents with U.S. mailing addresses.

You must be 18 years or older to win.
Watch out for the BIG BAD WOLF!  Leave your comments now!
This contest is sponsored by Crooked Brook®.  No compensation for the above contest was exchanged for this fabric giveaway.