Fabric Giveaway Sponsored by Crooked Brook!
I was contacted by a lovely company named Crooked Brook® who wanted to see if my blog readers were interested in a fabric giveaway.  I may be blonde, but I don't know ANY quilter who doesn't want a chance at free fabric!  They specialize on making and embroidering specialty apparrel as well as blankets.  But, if you scroll down on their website, they also affer many fabrics either for your quitling or crafting pleasure!
Being that I only work with reputable companys, I asked them for a sample of what they wanted to offer.  I received a HUGE box of 100% cotton twill in the mail: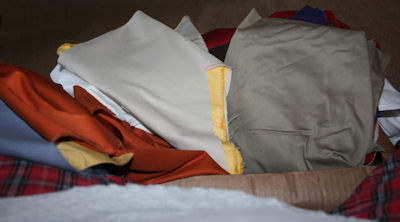 After doing what a normal quilter does of looking at the fabric, touching the fabric and contemplating the best use for it … I decided that it was a little heavy for a quilt in Texas, but it would make a great tablecloth.
So, I set out to cover our table with some fabulous colors!  And, I must say, when I set my mind to piecing something on the weekends, every single one of my family gets involved – totally a family affair and so enjoyable for me! 
Each square was cut into 10 1/2″ unfinished squares.  DD#3 counted them to make sure I had enough.
Then, I began my piecing: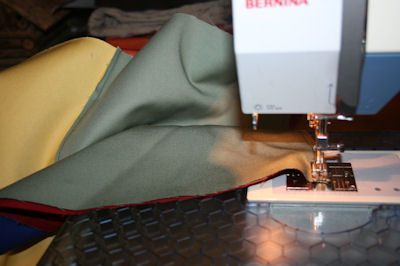 I made long rows and our son helped me to count them out: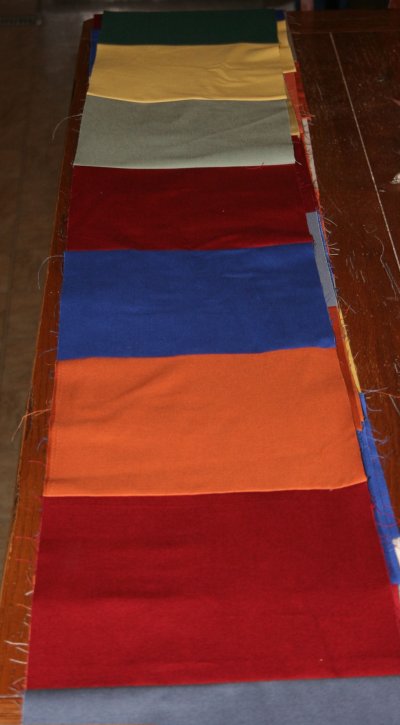 Then it was time to put the strips together to make our new tablecloth – the rest of the family helped me organize the blocks and colors: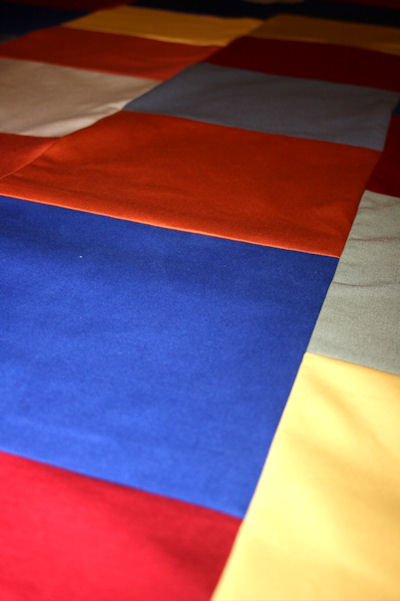 And here's the final (unquilted) product on our dining room table: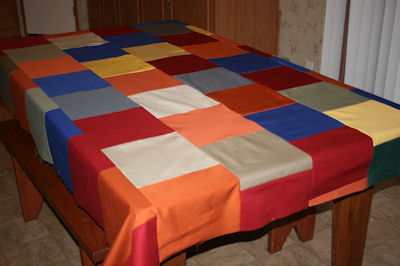 Pretty snazzy – and colorful, too!  Everyone in the house liked it!
Free Fabric Giveaway!!!
Crooked Brook® is offering a 25 pound box of fabric to one lucky winner!  I know you're gonna LOVE working with this great fabric.
Rules:
You must leave a comment on this blog post about what you would do with so much fabric, including your email address.

Entries will be received from March 29th through April 8th.

Winner will be chosen on Monday, April 11th and notified via email.

Winner will be randomly selected.

Entries only received from U.S. Residents with U.S. mailing addresses.

You must be 18 years or older to win.
Can't wait to find a VERY happy winner!  Leave your comments now!
This contest is sponsored by Crooked Brook®.  No compensation for the above contest was exchanged for this fabric giveaway.