My friend Mel will be glad to hear this – Mr. S. seems to have found himself a new place to live, in town.  He spent the night in the camper on Friday night.  I heard him leave on Saturday morning.  My husband said he loaded up a bunch of his clothes when he left.  And he hasn't returned since.  This morning, JD did his usual drive-by (he makes a rolling stop by my office shed each morning when he returns from taking the girls to school to make sure I'm ok and to let me know he's home) when he told me that Mr. S. had left a message on his phone that he'd found a place to live and would get his stuff out of our camper when he could.
Is that not odd to you, that someone wouldn't tell you to your face that they were leaving the free home you've provided to them for over six months?  I mean, we didn't in any way expect payment for his living quarters.  But, we did expect a little help – pick up sticks that blew down around the place, empty your own trash from the camper (which he doesn't do), etc.  He's probably done 5 hours of work in the 6 months that he's been here.  He keeps saying he's too old to do anything around here (he's 55) – by the time he's done working for a week, he usually spends his weekends in the bed.  And really, before he had a job, he didn't help, either.  If he didn't go to town, he'd lay in the bed ALL DAY.  It's sure been a really long time since I've done that – DECADES!
Obviously, our expectations were too much for him.  Even though, of course, he agreed to it when we offered the use of the camper to him.
But, I knew that there was no way he could save up to rent a place in town if he was driving back and forth from here.  With gas at $3 a gallon, the mileage over the hill to town really adds up.  I know we spend a pretty penny on it, but we have larger vehicles than he does. 
Whatever!
I'm glad he's found a job and a place to live.  Now?  I want his crud OUT of the camper so we can fumigate it and have it back.  But, knowing the speed with which he does things, it'll probably be another month before that happens. 
On another note, I finished writing another quilt pattern last night, and I designed another spool pattern.  It's SO cute, if'n I do say so myownself!  It celebrates spring, which is what our weekend was like in these parts.  And, I used something a little unexpected in the design – a pipe cleaner!  Get it?  Spring … well, see for yourself what I mean: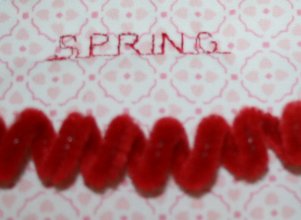 That's the only tease you're gonna get — but, the finished product is so darned cute!