I am so loved by so many, it's hard for me to fathom…since I felt I grew up with just a little love from a select few.   Birthdays are difficult for me, not because I'm aging (that part actually makes me HAPPY, since I've lived about 10 years longer than my parents or brother did) — but, I get a little down that my parents & Mike aren't here, to celebrate with me.
But, this year, I vowed to try to make it through the day and celebrate with my kids in a way that they would expect me to.  And I think I accomplished that goal!
First, was church.  I share by birthday with a sweet little girl at church, whose mom is the Praise Team director and the little girl is part of the Sacred Arts class that I assist with.  So, I made H. and I crowns to wear in church!
Then, the hubster dropped me off at the bookstore (MUCH needed and a gift card would have been something he'd have given me, if I'd have given him the money) and I shopped while the family went to the hardware store to stock up on softener salt. 
Of course, none of this happened without drama – DD#1 was totally embarrassed to be sitting by me with a CROWN on my head at church, so she sat as far away in the pew as possible.  Then, when they dropped me off at the bookstore, she said to her dad as they were driving away, "She's not REALLY going to WEAR that into the store, is she?!"  He assured her that I was, and I did, and she just hid her face so no one would see her until the car was out of sight.  But, when they returned to pick me up, she was the FIRST one to ask what books I got and which ones SHE could read first!!
Then it was the normal Sunday activites …. unloading the car from my grocery run, getting the rest of the girls' supply lists in their proper places, making lunch and NAP (ah, my favorite time of the day). 
While I was in my office checking emails after nap, the kids made me brownies, and I went home to the lovely smells of pure chocolate delight wafting throughout the house.  mmmmmmm
Mama Lu came down to the house and we had a right proper birthday celebration – one candle, that was a crayon candle, to commemorate not just my birthday but also the kid's return to school (there's a burn ban in our area, so JD was afraid to use more than one candle, hehe).  I received a number of loving cards in the mail, a moooootiful gift bag with cow items from my SIL & her family, a cake stand and a two-tiered cupcake stand that I'd asked for from Lu … and the gift of all gifts – an original oil painting from local renowned artist, Mary Zirkel!  You may remember me talking about DD#1 taking a class from Mary this summer?  Well, before she started, I told her that Mary painted the most gorgeous Texas Bluebonnets, and that I wanted DD#1 to learn how to paint so she could paint me some of those, too.  Of course, she didn't listen to me (she painted what she wanted, which was perfectly lovely) but it seems that my darling daughter told Mary what I'd said, and Mary GAVE DD#1 one of her original paintings, as a gift for me, because DD#1 was the only one in the class to complete both projects!  I'm tickled as can be, not only because DD#1 was so successful and is a great artist herself, but because I am now the proud owner of a Mary Zirkel painting that I could never afford to purchase for myself!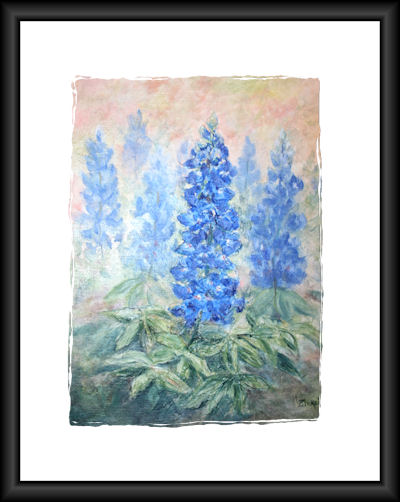 It also must be said that I sat in the chair on Sunday evening and DEVOURED the first book that I'd purchased – read it from cover-to-cover.  Ohhhhhh, that was a fine ending to a lovely day!
And as is the tradition in this family, the celebration has continued.  Yesterday, I received money from a wonderful client and friend, as well as a gift certificate for more books!
Thanks for the love, everyone!  It feels so good all under!