"Harry and Alice" Block #2 Revealed!
I sure hope you're following along and making my "Harry Loves Alice" 2019 block of the month (BOM) quilt from my sister site, BOMquilts.com!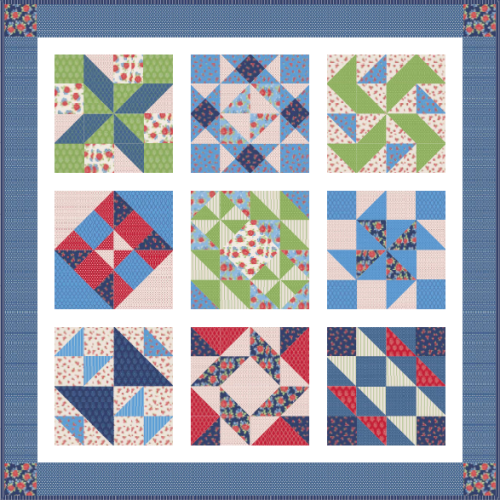 It's a great lesson in half-square triangles (HST's) ! Whether you're a beginning quilter, wanting to learn how to get more experience in piecing HST's, this quilt is the perfect way to brush up on your skills. If you're a more advanced quilter, there's nothing easier than HST's to whip up quickly and painlessly, so this quilt will go together rather quickly for you!
This is one of *my* favorite quilt blocks to make, too! 🙂 Especially with all of the different fabrics that come in the "Harry Loves Alice" fat quarter bundle from Abbi May's Quilt Shop. Just look at the way the stars & flowers and blues & navy play off of each other! With that punch from the creamy, dreamy stars fabric thrown in to break up the tonals of the combination of fabrics. Makes my quilty heart just sing for joy!!!
It's not to late to get started on your own "Harry Loves Alice" BOM quilt! Come on, you know you're just itching to add a quick quilt block to your monthly agenda, I can tell you are waiting for just that! 🙂 Would love to have you join me in making this adorable lap quilt that you can call all your own!