The Good Time Quilters of Blind Bay
"The Good Time Quilters of Blind Bay," Sorrento, British Columbia, Canada is not a formal guild, but a group of very social quilters. We now have 53 members, on average 25 will attend the meetings. Many of us travel and go to warmer climates in the winter. Our group was formed in 1997 by a group of friends with a passion for quilting and who enjoyed the company of fellow quilters. Their object was to have fun, enjoying lots of chit chat, potluck lunches and laughing together while doing what they loved.
"Show & Tell is a favorite part of all our meetings. From this, ideas and techniques are shared, and members willingly offer to do demonstrations of new quilting patterns and techniques . We like to have a demo each month, and sometimes bring a presenter in to teach a class. Our projects vary, large and small. Mystery quilts, BOM's, table runner's and the list goes on.
"The lasting friendships formed, a feeling of belonging and the skills shared are the special focus of our group and we embrace all who have a desire to quilt and learn along with us."
This year (and into next year), the Good Time Quilters of Blind Bay have chosen to make my original pattern from my sister site BOMquilts.com called "Cinnamon-teen Chocolate Figs & Roses."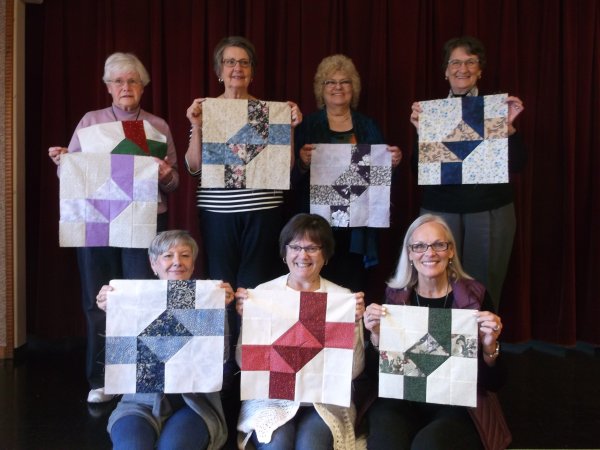 Pictured above are the members of the Good Time Quilters of Blind Bay Sorrento, British Columbia, Canada with their first "Cinnamon-teen Chocolate Figs & Roses" blocks