When we travel north and need a place to stay, my cousin always kindly puts us up.  I say kindly because there have been either five or six of us at her house at one time and for someone who is not used to kids around them all the time, it can be a challenge!  When she gave us a place to lay our heads on a pillow in May, she asked me to look at a quilt top she had and tell her how much it would be to finish it.  Since we were there for a funeral, finishing a quilt was the last thing on my list to do so I had my daughter put it in a bag and we brought it home with us.
I either didn't feel well enough to deal with quilting or didn't take the time to look at that quilt, but I pulled it out this past weekend and WOW, was I ever in for a treat!  I almost hoped my cousin had found it at a tag sale or flea market so I could buy it from her!  Unfortunately for me, but fortunately for her – she believes it is a quilt that was made by her grandma.
The fabrics are definitely of a 30's (new fabrics that look like this are called retro) era – and as I looked at the fabrics, all I could think about was that they looked like many of the aprons my own grandmas wore.  Stunning quilt fun for this lover of quilts!
This quilt is machine stitched in a basic log cabin quilt square with about 15″ blocks and the center of the blocks being about 5″ finished and all of the strips around the center are 1/2″ finished.  It is foundation-pieced with unbleached domestic (natural muslin) on the back of the blocks.  All I need to get done is the quilting and the binding and my cousin will have a blessed family heirloom to last for many more years to come.
I felt lucky to have it, hold it and caress it, even if for a very short period of time.  Again, an absolutely beautiful quilt made with a quilter's heart!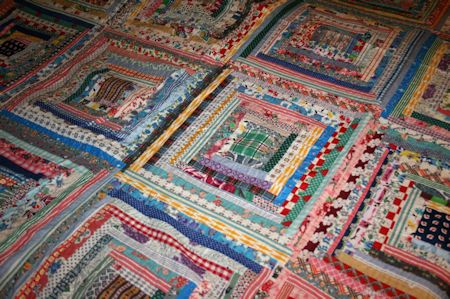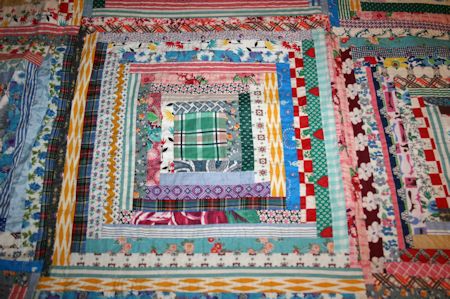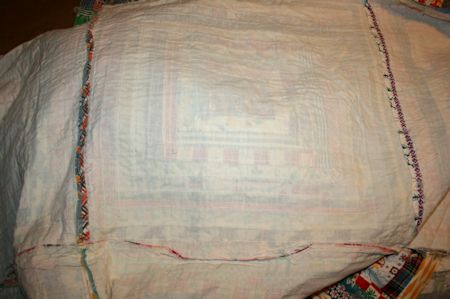 More photos to come after I get the quilt back from my quilter!